STAY is Now Live!
A Bleeding Stars Stand-Alone Novel
Grab Your Copy Now
---
"Stay is a power, heart-wrenching story that will consume you heart and soul, leaving you utterly breathless days after the last page is read." - Kelly Elliott New York Times bestselling author
Synopsis:
From NYT & USA Today Bestselling Author A.L. Jackson comes the next sexy, gripping Bleeding Stars Stand-Alone Novel… I'm Ash Evans. The life of the party. Hot. Rich. Charismatic. A tattooed rock star with the world at my feet. I burn through women faster than the strike of a match. I've embraced my lifestyle and live it to the fullest. Until the day my lifestyle caught up to me. Willow Langston found me at my lowest. Literally. Facedown in a puddle of my own blood. I owe her my life and I have three months to repay that debt. What I never should have done was touch her. Kiss her. Take her to my bed. Love wasn't supposed to be a part of the equation. I gave up that nasty complication a long damned time ago. Now I want her more than my next breath. But she doesn't know what I know. Do I leave to protect her? Or can I face my demons and ask her to Stay?
---
---
Giveaway
---

---
Connect with A.L.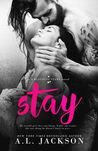 Stay
by
A.L. Jackson
My rating:
5 of 5 stars
A.L. Jackson has the ability to make you feel every single word she writes. Her prose is like music. The emotions are raw and beautiful and you are left spellbound after reading her books.
This book is no different. It works in perfectly in this series and I was completely invested in the story and the characters.
It is definitely a book I will be rereading and a book that I didn't want to put down. I am already wanting to experience it all again. It is one of those stories that you wish you could experience again for the first time. Absolutely beautiful and one of my favorites so far this year.
View all my reviews