Combust, an all new sexy and emotional standalone by K. Bromberg is NOW AVAILABLE!
My Review
About K. Bromberg
New York Times
Bestselling author K. Bromberg writes contemporary novels that contain a mixture of sweet, emotional, a whole lot of sexy, and a little bit of real. She likes to write strong heroines, and damaged heroes who we love to hate and hate to love.
A mom of three, she plots her novels in between school runs and soccer practices, more often than not with her laptop in tow.
Since publishing her first book in 2013, Kristy has sold over one million copies of her books across sixteen different countries and has landed on the New York Times, USA Today, and Wall Street Journal Bestsellers lists over twenty-five times. Her Driven trilogy (Driven, Fueled, and Crashed) is currently being adapted for film by Passionflix with the first movie slated to release in the summer of 2018.
She is currently working on her Everyday Heroes trilogy. This series consists of three complete standalone novels—Cuffed, Combust, and Cockpit (late spring 2018)—and is about three brothers who are emergency responders, the jobs that call to them, and the women who challenge them.
She loves to hear from her readers so make sure you check her out on social media or sign up for her newsletter to stay up to date on all her latest releases and sales:
http://bit.ly/254MWtI
Connect with K. Bromberg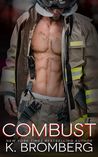 Combust
by
K. Bromberg
My rating:
5 of 5 stars
This was such an intense, emotional, beautiful roller coaster ride that you will not want to get off of. It is such an amazing story. There was so much to each of the characters. There were so many layers and they were so well developed. The storyline was interesting and kept me sucked in the entire time. I found myself feeling everything the characters felt and I was completely involved in their story. I absolutely loved it. This is definitely a great series so far and I cannot wait to read more! K. Bromberg always amazes me with her words.
View all my reviews